About Olivia & Co.
In 2016 Olivia & Co. was a small business started by a mum in her Sydney living room. Inspired by her daughter Olivia, she decided to make premium and personalised bags and accessories to make the everyday that bit more special.
Fast forward to 2022 and new owner Mark, had big plans for this brand. Moving beyond ladies' bags and accessories, Olivia & Co has also evolved into men's, travel and corporate collections, while remaining true to the spirit of keeping every item personal.
Mark saw a gap in the men's and corporate market for upscale monogrammed goods. Corporate gifts and buying gifts for men can be a challenge, so the Olivia & Co. brand developed a range of functional, yet beautifully made and stylish products. All Olivia & Co. leather and vegan leather goods can be monogrammed with your name, initials or even your company logo.
Olivia & Co. also offer live monogramming for pop up stores, trade shows and branded activations, launches, Christmas parties, staff parties, weddings and more.

Mark has plans to introduce new products and customisation options. Always staying on top of trends but cultivating a collection of products that are timeless and special.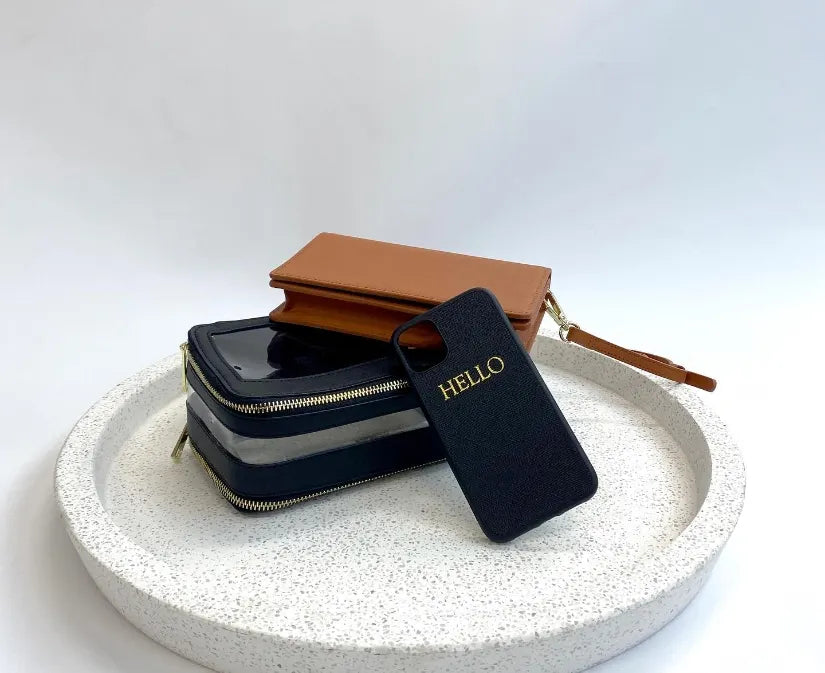 Our leather
Olivia & Co. has rigorously tested many types of leather and now use three main types of leather: saffiano, full-grain pebbled, and smooth calf-skin.
The cruelty-free vegan leather is a composite microfibre faux leather made from polyutherane. Remaining true to Olivia & Co. values of elevating the everyday, we never use any PVC or other nasty materials for our products. Our vegan Hero Bag remains a bestseller amongst our loyal customers.
Q&A's
Customer Service inquiries?

At Olivia&Co we are known for our excellent customer service, turnaround times & product quality this will apply to all Mon Purse products sold from Olivia&Co online.
I purchased a Mon Purse product from Olivia&Co and there is an issue with my order. Can Olivia&Co assist me with this?
I purchased directly from Mon Purse and there is an issue with my order. Can Olivia&Co assist me with this?

Unfortunately, we cannot assist with items purchased from the Mon Purse website or a Mon Purse store as Olivia&Co. is an unrelated website owned by Olivia Online Pty Limited. Please contact Mon Purse Pty Limited directly via the contact details on their website. The Olivia&Co policy applies to all Mon Purse products purchased from Olivia&Co online. Please visit https://oliviaco.com.au/pages/refund-policy 
Does Olivia&Co own Mon Purse, the Mon Purse brand, or the Mon Purse trademark?

No. Olivia&Co, however, owns the Mon Purse product which is sold on the Olivia&Co website. The Mon Purse trademark is owned by Mon Purse Pty Limited. Olivia&Co is a separate legal entity to Mon Purse Pty Limited with different directors and ownership.
How to order?

Like Olivia&Co products, on the product page, please enter the initials or numbers you would like monogrammed/embossed onto your leather accessory. Click 'add to cart' and on the checkout page, add a note to say where you would like it monogrammed, and voila! You have yourself a personalised leather goody on its way to you.

For more information about the Mon Purse products please don't hesitate to reach out to our team at hello@oliviaco.com.au.

Get ready for classic designs that will become your investment piece you'll be reaching for all season long.Whether you are after a sophisticated classic or fun & flirty must-have, we'll be able to ensure you find the perfect personalised gift for that someone special or why not treat yourself.